How a custom card gets made
Step 1: The idea
Your idea or Jeff's
The first step in getting your cards created is to come up with a funny situation for your card. Jeff can work with your ideas or create ideas for you. Your input and guidance are welcome.
Stuff Jeff can't draw
Due to trademark and copyright law, Jeff cannot draw commercial characters on your cards. Some examples of commercial characters include: Winnie the Pooh, Mickey Mouse, Bugs Bunny, Blue from Blue's Clues, etc.
Text for your cards
You will need to write the text for the inside and outside of your card. It would be best if you have this ready when you call with your order but it's ok if you need to keep working on it. If your card is an invitation, be sure to include the date, time, and location of your event.
Caricature
If you are having Jeff draw a caricature for your card, you will need to e-mail, mail, or fax at least one photo of each individual.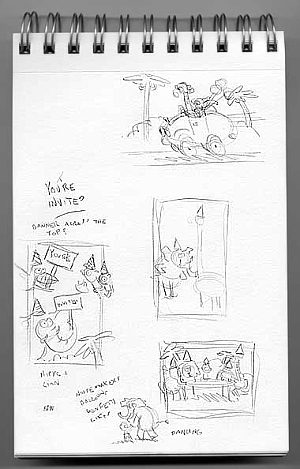 These are some quick idea doodles for a card