How a card gets made
Step 4: Color Proof
Color check
After your cards are colored, but before they are printed, Jeff will send you a proof of the color via e-mail. Assuming the color meets with your approval, the next step is to print the cards.
Changes
Due to the difficulty of changing the painted image once it has been colored, changes are discouraged at this stage. If you have a preference for a color scheme, you should discuss it with Jeff before he colors your card.
Proof accuracy
Due to differences in how individual computer monitors display color, the proof cannot represent the final printed card with 100% accuracy. Some colors may become darker or lighter when printed. Jeff will closely monitor the output of the printed cards and make adjustments if necessary to insure high quality color.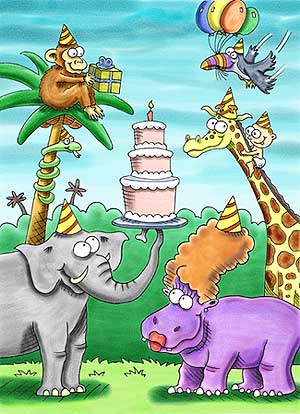 The final color version of the card